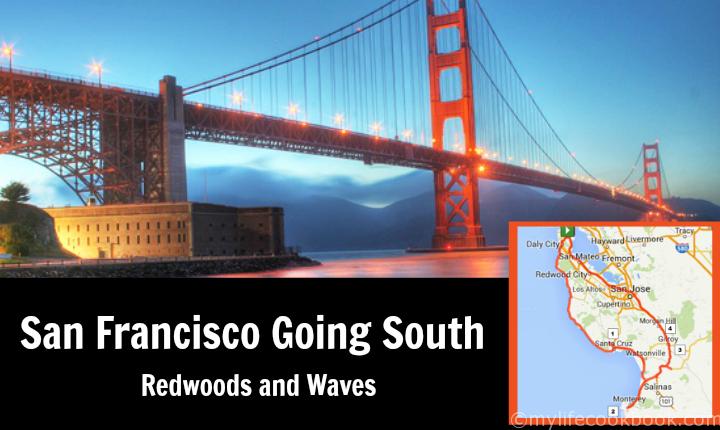 Today my wonderful, travel-loving husband is guest posting with one of his favorite day trips out of San Francisco. He is my favorite person to travel with for many reasons but one is that he knows what he's talking about and has been everywhere. Hope you enjoy it as much as I do.
 Day Tripping with Rick — San Francisco
One of my favorite day trips is quite an ambitious one.  Just out of Penn State in 1980, I moved to San Jose to work for General Electric.  After three years that included getting my MS from UC Berkeley and the birth of my first child, we moved back to Pittsburgh for the free babysitting.  The three years I spent in northern California left a deep impression.  These are some of my favorite places to visit.  They can be seen in one day out of either San Francisco or San Jose.
San Francisco is the loveliest large city in the US.  I don't think many people would argue this point.  San Jose is well, San Jose.  It was the richest farmland in the world until they paved it.  It is assumed that you have spent sufficient time to see the city and that you have one day before you head back to where ever you're from.  This is how I like to spend that day.
This trip goes south of the city.  There is plenty to do and see north of the city, but that's the subject of another post.  There is nothing to see east of the city and west puts you into the Pacific Ocean.
1.  San Francisco to Santa Cruz – Henry Cowell Redwood State Park
It is about 70 miles down CA-1 from San Francisco to Santa Cruz.  The road wends along the coast along cliffs and cow pastures, flower fields, and sleepy little towns.  Half Moon Bay is particularly pretty with the colorful flower fields.  Santa Cruz itself is kind of cheesy.  There is a beachfront complete with a boardwalk and amusement park.  However, just north of downtown is a lovely walk along the cliffs overlooking the Pacific.  I used to like roller skating here as a youngster.
For my money, the best place to experience coastal redwoods is Henry Cowell Redwood State Park.  It lies off CA-9 about 10 miles north of Santa Cruz near Felton, CA.  There is a day use fee of $10 per car.  Save your ticket as you can use it again at any other state park.  There is a perfectly flat 1 mile long walking trail through the old growth redwoods.  Everyone must see redwood trees up close at least once in your life.  There are dozens here that are over 2000 years old.  One fell during a storm and they've cut the trunk so that the rings are visible.  Dates are marked that go all the way back before the birth of Christ.  There is even a tree you can get inside and pretend to be a cookie-baking elf.  Other redwood parks like Muir Woods and Big Basin are much larger and probably afford more opportunities for hiking, camping, etc., but Henry Cowell's Grove trail is the most spectacular collection of trees I've seen in one place.  It's perfect for all ages.
2.  Santa Cruz to Point Lobos State Reserve
Back on CA-1 south about 50 miles around the rim of Monterey Bay will take you to what I think is one of the most spectacular spots on earth, Point Lobos.  Some will fault me for not stopping at Monterey (probably the Monterey Tourism Board) to spend $10 to drive on 17-mile drive to see the gates of Pebble Beach golf course, or see the aquarium, but I think you're better off exploring the tide pools at Point Lobos and experiencing Pacific sea life without the glass barrier.  You also drive past Carmel by the Sea which is lovely, and has a beautiful Spanish mission, but we will be going to a better one later in the day.
Point Lobos is a popular place.  On weekends and during nice weather, the park fills to capacity.  The locals park on CA-1 and walk in, but you already spent $10 at Henry Cowell so wait in line and you should be able to enter in a few minutes.  Show your ticket from the previous park, then drive directly to the Point.  This is a fairly small park and the hiking is easy and beautiful.  The largest parking area is at the Point.  Take the trail out to the headlands.  If you're lucky, the waves will be crashing so that you can barely hear the sea lions barking.  If the sea isn't too rough, walk out to the tidal pools and look in.  The water is perfectly clear and full of life.  Sea urchins, starfish, mussels, barnacles, and all kinds of colorful crabs can cause you to lose hours here.  When you've seen enough, walk back to the parking lot.  Take the North Shore Trail out of the lot towards Whaler's Cove.
The North Shore Trail snakes along the cliffs overlooking hidden bays where sharp eyes can spy sea otters floating on their backs cracking abalone shells off rocks that they hold on their chests.  Often you can hear them before you actually see them.  "Crack!, crack!, crack!".  Monterey cypress trees which can only be found here line the bay.  The trail extends about 1.5 miles before descending a rock stair to Whaler's Cove.  This is a mecca for scuba divers with a boat ramp and the area off shore is protected.  I'm a certified diver, and I'm ashamed to say I've never dived here.  Forests of kelp extend 50 feet from the sea bed to the surface through crystal clear water.  Looking across the bay from above the cove you can see the whole stretch of Pebble Beach golf course (without the $10 fee).  Hike back to the Point on the same trail.  The views are different going the other way.  I lived here before the days of digital cameras and trying to pick the best 24 pictures on a roll of film was a difficult task.  Typically, we would stop and have lunch along the trail or at Whaler's Cove which has picnic tables.
3.  Point Lobos to the mission at San Juan Bautista
Leaving Point Lobos, you retrace your steps a bit as you drive north on CA-1 to Castroville.  This is the heart of artichoke (no pun intended) farming in the world as the cool wet climate is perfect for the overgrown thistles.  Take the turnoff for CA-156 east and follow it for about 7 miles, then take US-101 north toward San Jose for about 10 miles, then exit onto CA-156 toward Hollister for two miles.
San Juan Bautista is Spanish for St. John the Baptist. The mission church is over 200 years old and was founded by Spanish Franciscan priests as the fifteenth of twenty-one churches in California. Each church was one-day's walk from the next. The church and grounds have been restored to resemble the early church, but in this dusty farm town right on the San Adreas fault, it is not a stretch.  The mission figured prominently in Alfred Hitchcock's Vertigo, although the climactic scene in the bell tower was staged as the original tower had previously burned down.
In the small town surrounding the mission, there is an excellent Mexican restaurant, The Jardines.  By now, it should be time for dinner, and the garden dining here is wonderful.
4.  San Juan Bautista to Gilroy
Back onto US-101 north for about 15 miles brings you to Gilroy.  Gilroy is kind of a strange place.  It a typically dusty, Santa Clara Valley farm town that is close enough to San Jose to be a bedroom community for the Silicon Valley engineers who fancy themselves some kind of cowboys.  It is also the self-proclaimed Garlic Capital of the World.  Actually, China grows more, but you're not likely to visit there on this day trip.  When I lived in San Jose, the wind would blow from the north off San Francisco Bay during the day.  At night, the wind would stop and a slight breeze would blow from the south.  In the morning, garlic.
There are no vampires in Gilroy.  There is a Garlic Festival where they serve garlic ice cream.  There is a Garlic Queen.  I don't know why I'm even mentioning it, but, hey, you don't pass through too many "capitals of the world" every day.  Actually, I've never stopped there.  Just make sure you roll down the windows and take a big whiff.
Back to San Francisco
By now, you're beat.  If you were staying in San Jose, you'd be home in 30 minutes.  But since you have the good taste to base in San Francisco, you still have an 80 mile trip home straight up US-101.  Although a bit longer, I-280 up the peninsula is a much nicer drive.
You saw a lot of great places, but you missed some, too.  Day trips are tough because you always have to pick and choose what you see and miss.  You can spend a whole day in just about any of the places I mentioned (well maybe not Gilroy).  I'm sure that having seen them, you will come back to them again the next time you visit the bay area.