Nuclear engineers are a small club.  Our technical society, the American Nuclear Society (ANS) has two big meetings per year.  The winter meeting is usually held in Washington DC, and the summer meeting is held at a variety of pretty nice places.  Quite a few of them have been held in San Diego, which is one of my favorite places to go.  We always get to stay in a nice hotel, so it is a treat for Denise and Max while I'm running to and from meetings.  My airfare is paid by my company, and the hotel, this time the Town & Country Resort just east of downtown off I-8 makes for a great stepping off point for a great trip.
There is a TON of cool stuff to do in San Diego.  They have maybe the best zoo in the world here.  If you are adventurous, Mexico in the form of Tijuana is not far away.  Denise and Max did all the "in town" stuff while I was attending lectures on nuclear reactor safety.  When the meeting was over, we took off on a two-day trip that covered about 450 miles.  There were three main goals of this trip
See Joshua Tree National Park, one of the newer parks in the desert north east of San Diego
See Legoland California (a demand by Max)
Get to the beach (a second demand by Max)
While not strictly a day trip, we were able to do a lot of this in two days out of San Diego with a stay at a nice resort (on hotel points) in Palm Springs.
San Diego to Salton City – 125 miles
Leaving San Diego on I-8 east, you quickly go from Mediterranean to mountainous desert terrain.  About 25 miles, exit onto CA-79 north, and after 23 miles take CA-78 west toward the Salton Sea.  The Salton Sea is huge.  And it wasn't there 110 years ago.  Instead there was a depression in the desert exactly along the line of the San Andreas fault.  The valley was ideal for farming except for one problem, it was as dry as a bone.  A canal was dug to connect the nearby Colorado River to the valley, but excessive flow from the spring thaw in 1905 overwhelmed the canal and resulted in the river flowing into the valley unabated for two years forming the biggest lake in California at 343 square miles..  With no outlet, the salinity of the sea continues to increase, although it is not as salty as the Great Salt Lake in Utah.
The Salton Sea is not the most picturesque place I've seen.  There are ample opportunities for boating and fishing, but it is not a lovely lake.  It's not every day that a lake suddenly appears overnight, though. Eventually, it will dry up and become a large salt flat.
Salton City to Joshua Tree National Park – 58 miles
Continue up CA 865 31 miles to I-10 east at Indio.  Then Take I-10 about 27 miles to the southern entrance to Joshua Tree National Park.  Stop at the Cottonwood Visitors Center.  This is always a good idea when visiting a national park.  The rangers are the best source of information for day trippers (like us), or for hard-core wilderness backpackers (not like us).  They'll give you a list of things "not to be missed".
The first thing you see are these crazy trees, from which the place gets its name.
The tree is a "fast grower" for the desert and has been known to grow about 3 inches per year.  I'd hate to see the slow growers.  It's a member of the yucca family and you wouldn't want to run into one in the dark.  You also see a bunch of desert plants, but mostly barren hills and really crazy rock formations.
Probably the coolest place we saw was called Hidden Valley (no ranch dressing here).  It was actually a good-sized valley that you could  hike into and be completely cut off from the world which was only a half-mile or so away.   They even kept cattle in here since they couldn't find their way out.
The drive through the park is about 60 miles with ample places to stop off and take photos.  The desert is beautiful, but can be dangerous.  Bring enough water if you plan to hike.  This park is relatively new and it isn't really very crowded.  Not much cell phone service out there either.
By now we were tired and hungry.  The drive from the north entrance to the park to Palm Springs was only about 30 miles.  I had never been there before and was in for a treat.
Palm Springs
First, if you're going to go to Palm Springs, stay someplace nice.  We stayed at a beautiful resort that they hoped we'd fall in love with and buy a timeshare.  We didn't.  We did have a great place to stay surrounded by brilliant green golf courses.  We didn't golf either.  Instead, we rested up before heading out on the town.
Palm Springs was just about the strangest place I've ever been.  It is right out of the 1950s.  It was the place that Hollywood went to get way from Hollywood.  You expect to see Frank Sinatra and Dean Martin walking down the street.  The center of town is a huge 26-ft. tall statue of Marilyn Monroe with her skirt blowing up from the movie The Seven Year Itch.  The sidewalks in town are in-laid with stars with the names of actors and entertainment celebs who called Palm Springs home.
The place is full of 5-star restaurants.  I am a huge fan of the movie The Big Lebowski, so our dining choice was an obvious one.  Yes, I'm cheap, but they don't have them in Pittsburgh.
Our last stop in Palm Springs was at the tramway.  A cable car ascends from the valley floor to the top of San Jacinto Peak.  I'm guessing before you could fly in an airplane, it would've been a helluva view.
Palm Springs to Legoland – 130 miles
Leaving Palm Springs on I-10 west, we travelled to I-215 south to I-15 south to Carlsbad, the home of Legoland California.
Now my son Max is a Lego nut.  All kids are, but Max has about $200,000 worth of the things and they are everywhere and anywhere in our house.  We have bins and bins of them.  When Max was 3 years old, we got the opportunity to spend a year in the United Kingdom.  One of our day trips (and the topic of a future post) was by train from London to Windsor, home of Windsor Castle and Legoland UK.  It was awesome.  Later, they opened a Legoland in Orlando, FL, and since my parents have a place down there, we made the trip.  Legoland California was the third of four in the world.  The Holy Grail is the original Legoland in Copenhagen, Denmark.  Max will not rest until we get there.
Much like Disney, all Legolands are about the same.  There are rides for kids, but mainly there are fantastic Lego creations.  They all have these great recreations of famous buildings, and cities.  Even a 20 ft. tall Lego space shuttle.  This Legoland seemed to be heavily into Star Wars which is another of Max's passions.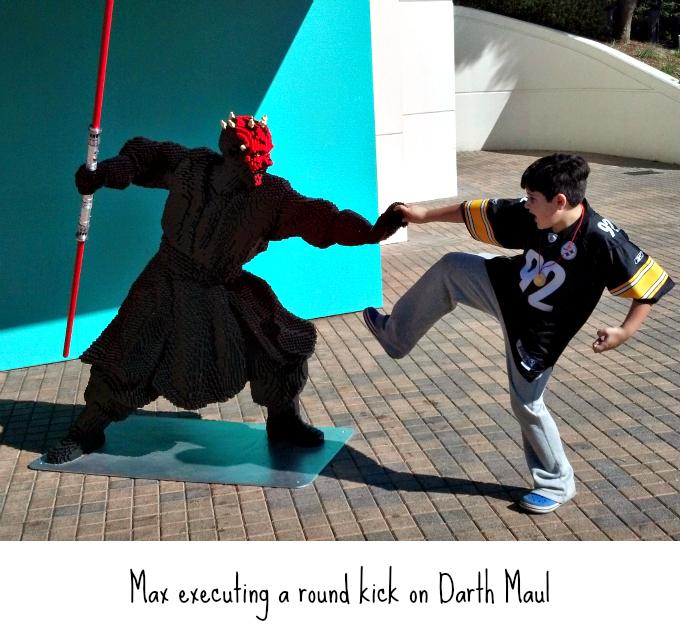 An added bonus is the aquarium that is right next door and is a small incremental cost on the Legoland ticket to get in.  Lots of hands-on exhibits and scuba diver caretakers.
Legoland to La Jolla – 24 miles
The last thing on our list was a trip to the beach.  The town of La Jolla is just down I-5 about 24 miles, so that seemed a likely choice.  I'm partial to the northern Pacific beaches (see my posts on San Francisco – South, and the Oregon coast ), but La Jolla is a great beach.  The center of town is a rocky cove with lounging sea lions.  We went just north of there where we watched the sun set on a wide sandy beach.
I'm sure you'll agree that that was a packed couple of days.  San Diego is a great place to spend a family vacation, and these are a few of the surrounding attractions.  Make a point to get there.  I'm sure we'll be going back.  After Copenhagen…..
Daytripping with Rick